Men face a daunting conundrum every year when the weather gets warmer: What are appropriate summer shoes for men? When I first started to get together some ideas for this post, my plan was to achieve the impossible. I was going to find sandals for men (aka "mandals") that were not completely heinous. Like unicorns and leprechauns, stylish mandals do not exist. All of my findings fell into three categories:
men's shoes that look like very large women's shoes
,
overly sporty
and
absolutely ridiculous
. While men should avoid the mandal, in my opinion, flip flops and canvas sneakers are a great summer option.
But before a man puts on a flip flop, he should make sure his feet look presentable. By doing a quick scan of men's feet on this warm Spring day in New York City, I realized that most men's feet could use some grooming. This does not mean that men need to get pedicures in salons. There are some simple things that can be done at home to improve the condition of their feet. Using a
pumice stone
and
foot scrub
once a week will soften cracked heels and get rid of dry skin. Keeping toenails short and clean with the help of a good
manicure set
will also make your feet flip-flop ready.


Once a man's feet are well groomed, it's time to put on the flip-flops. Here are some of my favorites.
JCrew Madras Thong $24.50
Ferragamo Leather Thong $250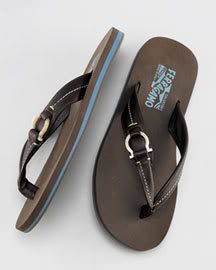 And for those casual summer nights where you don't want to wear a flip flop...
Converse Slip-On Sneaker $95