America Ferrera is a beautiful actress who happens to have some curves and a little junk in the trunk. While America is considered "overweight" in the fashion world, her shape is closer to the typical woman's than any size 0 runway model. Her clothing choices accentuate her sexy curves and minimize any figure flaws. Here are some style lessons we can take from a few of America's recent looks.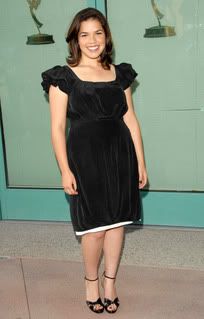 GIVE YOURSELF A WAIST. It's often tempting for curvy women to wear billowy, tent-like tops because we think it hides a less than perfect stomach. In fact, this silhouette makes women look heavier since it gives the appearance of being a blob. Cinching in your waist makes you look curvy rather than heavy. If you feel a little insecure about your stomach, make shapewear your new best friend. I'd be willing to bet my favorite Marc Jacobs bag that America is wearing a good girdle under that dress.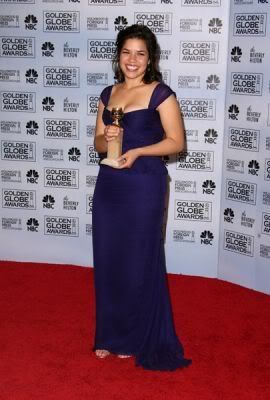 WEAR DRESSES REALLY LONG OR KNEE LENGTH. Knee length dresses like the black one America wears above accentuate the calves which are usually a very shapely part of a woman's legs. Floor length dresses like the one America wore to the Golden Globes give a long silhouette that can make you appear taller and thinner. Hemlines that end below your knee to the middle of the calf will often make legs look heavier than they are.

SHOW A LITTLE CHEST. Exposing some chest is sexy and can also make your neck look longer. Crew necks and turtlenecks are not always the curvy girl's friend.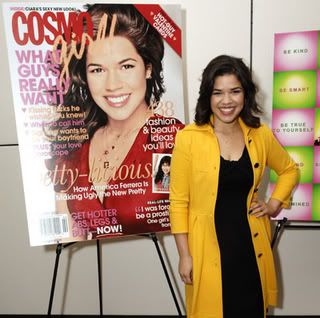 DON'T BE AFRAID OF COLOR. There's no reason for curvy girls to hide behind dark colors all the time because of the stereotype that darker colors are slimming. Accentuating a black dress with a bright yellow jacket conveys confidence and compliments America's olive skin.



SKINNY JEANS ARE YOUR FRIEND. When skinny jeans started making their way on my fashion radar last year, I thought to myself, "This is a look that only works for the Nicole Richie's of the world." It turned out I was wrong. In fact, a dark wash skinny jean can be much more figure enhancing than a pair of tried-and-true bootcuts. Bootcut jeans with too much flare at the knee can sometimes make a woman's hips look big. A moderately tapered dark jean will elongate the leg and even camoflauge full thighs.

And last but not least... MAKE SURE IT FITS. While we don't all have America Ferrera's tailoring budget, we can make sure we buy clothes in our size and have things properly altered. While it may make you feel good mentally to buy jeans in a size 4, if they give you a muffin top, you're not doing your figure any favors. Go up a size and you'll be surprised that you actually look slimmer. And if going from a size 6 to an 8 gives you agita, be like Mariah Carey and cut the size tags out of your clothes. It will be our secret.