It was a beautiful, warm day in NYC today, which inspired me to do a little Spring clothing shopping. I decided to take a run through the Gap since that is one of my favorite stores and they are getting a lot of hype over their Designer Editions Collection. I found lots of great stuff, unfortunately, none on sale. But reasonably priced nonetheless! Here's the rundown:


This cotton camisole top was only $19.50. It has crochet detailing at the neckline and buttons you can open if you want to be playful and show some cleavage or button to the top if you're feeling conservative.


This top was $39.50. It's very lightweight and perfect for a shopping day with the girls. The straps are adjustable so if you're petite like me, you don't have to worry about the top part sagging to around your belly button.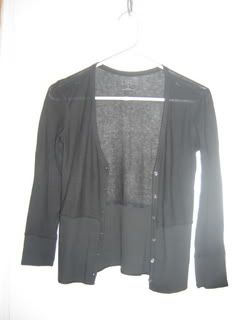 This cotton cardigan was $24.50. It's perfect for the Spring/Summer! If you work in an overly air-conditioned office, this is the perfect cardi to throw over your Summer dress without sweating to death on the way into work. It's also very sheer so while it covers you up, it still has a sexy feel.


This dress was hard to photograph but you can get a better look at it here. It's an easy, empire waist style that is flattering to most body types. Also, while it's a girly dress, it's as comfortable as your favorite pajamas. Love it!

When I shop, I often have a key piece in mind that I'm building the trip around. In this case, it was these KORS sandals.


I love them! They're comfortable and they're also perfect to wear when you're getting a pedicure. I like my clothing to serve multiple functions.

While my Fall and Winter trips to the Gap had been pretty disappointing, I am really enjoying their Spring collection. The clothes are feminine, grown-up, trendy but still giving you those basics and staples that the Gap is known for. It's definitely worth a trip.